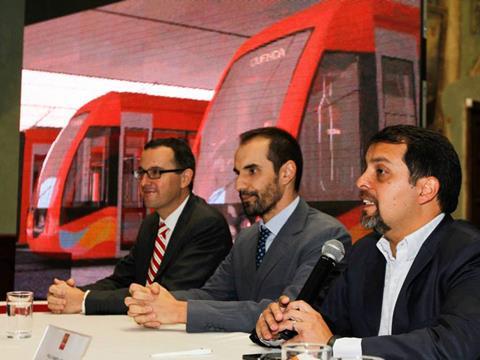 ECUADOR: Mayor of Cuenca Paúl Granada announced on June 28 that contracts had been signed for the construction of a 10·5 km tram route, the first modern line to be built in Ecuador. Scheduled to open in 2015, the route will serve a total of 27 stops and will be able to carry up to 120 000 passengers a day.
The CITA Cuenca consortium of Alstom, CIM, TSO and INEO has been awarded a US$142·6m contract covering the supply of rolling stock, electrification and power supply equipment as well as systems integration. Alstom's share of the contract is worth €70m, according to the company.
As the centre of Cuenca is a UNESCO World Heritage Site, the city has opted for what Alstom says will be the first APS catenary-free power supply system to be installed in the Americas.
A fleet of 14 Citadis trams are to be supplied from Alstom plants in France. The 100% low-floor vehicles will be 33 m long, with a capacity of around 300 passengers, wide doors and large central aisles for unimpeded passenger flow.
'This project and our Citadis will improve the urban mobility of Cuenca, home to about 500 000 inhabitants, with one of the cleanest, most efficient and most comfortable means of public transportation', said Michel Boccaccio, Senior Vice-President of Alstom Transport in Latin America. 'It is also an opportunity to show other Latin American countries that similar projects can be developed in their cities'
A separate $72·1m contract covering the construction of the rolling stock maintenance depot, preparation of the alignment and other works has been awarded to the Tranvía Cuatro Ríos de Cuenca consortium. Project management and supervision is being undertaken by SMT-AC/Artelia Ville & Transport under a third contract worth $8·2m.
With a total estimated cost of $232m, the project is being mainly financed by the French government's Emerging Country Reserve loan scheme.