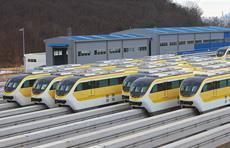 SOUTH KOREA: Daegu metro operator Daegu Metropolitan Transit Corp opened Line 3 on April 23. The 24 km line is the city's first monorail.
The north-south route connects KNU Medical Centre to Yongji with 28 intermediate stations. Interchange is provided at Sinnam with metro Line 2 and Myeongdeok with Line 1.
Services are operated with a fleet of 28 three-car Class 3000 trainsets supplied by Hitachi. The first set was manufactured in Japan and the rest were assembled by Woojin Industrial Systems in South Korea.
The trains are 46·2 m long with capacity for 85 seated and 180 standing passengers. Power output of 1 050 kW gives a maximum speed of 80 km/h. Liquid crystal screens enable the windows to turn opaque when the train runs through residential districts, to protect the privacy of residents living near the line. The trainsets are also equipped with sprinkler fire extinguishers and CCTV.
Hitachi was selected as main contractor for Line 3 in 2008 and construction started on July 24 2009. The project cost was US$333m.