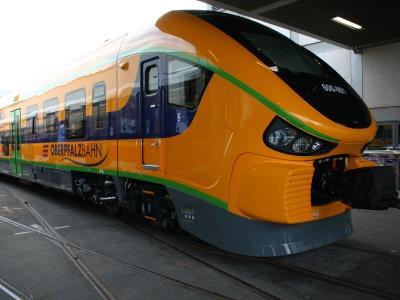 GERMANY: Under a framework agreement signed last year with Pesa for the supply of up to 470 units, DB Regio has ordered 36 Link DMUs to operate passenger services on the Sauerland network.
A 12-year contract awarded to DB by the transport authorities for Westfalen-Lippe, Rhein-Ruhr and northern Hesse covers operation of the Dortmund – Dorsten route from December 2015, succeeding NordWestBahn. This will be followed by Hagen – Kassel-Wilhelmshöhe, Unna – Neuenrade and the routes from Dortmund to Winterberg/Brilon Stadt, Lüdenscheid and Iserlohn in December 2016, representing a total of 5⋅6 million train-km a year.
DB has ordered 20 twin-section Pesa Link DMUs each 43⋅73 m long, while the remaining 16 will have three sections totalling 57⋅13 m. Maximum speed will be 140 km/h, with floor height 760 mm above the rail and level boarding provided by means of a retractable step.