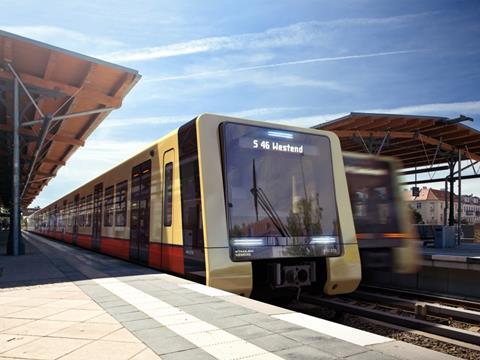 GERMANY: DB subsidiary S-Bahn Berlin GmbH has signed a framework contract for up to 1 380 electric multiple-unit cars with a consortium of Stadler Pankow and Siemens. The base order comprises 85 four-car and 21 two-car trainsets, to be used on the Ring and southeastern branches pf the 800 V DC electrified network.
To be manufactured and assembled at Stadler Pankow's factory in Berlin, 10 pre-series EMUs are to be delivered in 2020, with deliveries of all 106 to be completed by 2023. The timetable for putting the new trains into passenger service is expected to be:
January 1 2021: S47 Spindlersfeld – Tempelhof / Südkreuz (– Bundesplatz);
July 1 2022: S46 Königs Wusterhausen – Hauptbahnhof;
October 14 2022: S8 (Wildau –) Grünau – Hohen Neuendorf;
April 14 and October 13 2023: S41/S42 (Ring line).
The walk-through trains will be equipped with air-conditioning and wheelchair spaces. Under the consortium formed in 2012, leading partner Stadler will be responsible for the mechanical and structural aspects of construction. Siemens will be responsible for the electrical and traction equipment, as well as bogies. S-Bahn Berlin will maintain the trains at its Grünau depot, which is to be refurbished ahead of the fleet's entry into service.