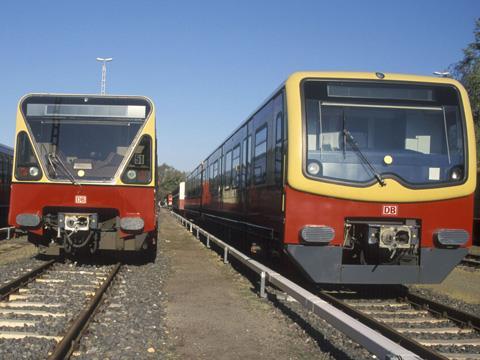 GERMANY: DB subsidiary S-Bahn Berlin GmbH has invited expressions of interest by December 9 in a framework contract for up to 1 380 new EMUs, which would potentially enable the complete replacement of the existing S-Bahn fleet.
The first tranche of new vehicles would be called off in the event that DB wins the contract to operate the so-called 'ring and branches' concession, which is the first of three S-Bahn operating contracts which the Berlin Senate is planning to award through competitive tender. All three would require the new operator to provide appropriate rolling stock.
The ring operator is to be selected by the end of 2014, followed by contracts to run east-west routes via the Stadtbahn and north-south services through the cross-city tunnel. Shortlisted bidders for the ring are reported to include RATP, National Express and MTR Corp, with Bombardier, Siemens and Stadler lining up to provide new vehicles.
At present S-Bahn Berlin deploys 1 300 vehicles of classes 480, 481/482 and 485. These 18·5 m long cars are formed in two-car units and used in trains of up to eight vehicles. The Class 480 and Class 485 vehicles pre-date reunification, and are scheduled for early replacement as their equipment is non-standard. The larger fleet of class 481 and 482 vehicles has been the subject of much controversy, following several high-profile failures which disrupted services for many months.
Although the tender is specified in terms of the current 'quarter trains', which have two driving and non-driving cars gangwayed together, S-Bahn Berlin envisages that future builds would run in bigger formations, allowing more gangways to ease passenger loadings. The 'ring and branches' tranche of 390 vehicles would therefore be formed into 82 four-car units with gangways throughout and 31 two-car sets which would have cabs at each end to boost operational flexibility.
In the request for proposals, S-Bahn Berlin has included an option for the operator and vehicle manufacturer to establish a joint venture company, which would provide the vehicles, and may possibly take responsibility for maintenance; this would be the first such outsourcing agreement within the DB group. The company might also play a role in raising the necessary funding.