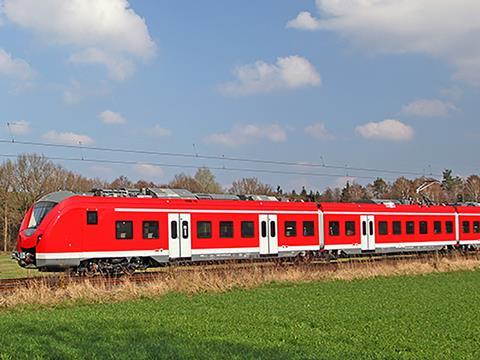 GERMANY: DB Regio has awarded Alstom a contract to supply 26 Coradia Continental electric multiple-units for use in Nordrhein-Westfalen and Rheinland-Pfalz.
The firm order announced on March 31 has been placed within a 2012 framework agreement for the supply of up to 400 units, the first 28 of which entered service in 2014.
The latest order includes three-car units with 155 seats and five-car units with 266 seats. Alstom said special attention had been placed on passenger comfort, with multi-purpose areas for wheelchairs, bicycles and prams and roof-mounted traction equipment to provide a spacious interior. There will be movable steps and gap fillers for easy boarding, mobile phone repeaters, power sockets CCTV and real-time passenger information.
More than 2 400 multiple-units from Alstom's Coradia family have now been sold, and around 1 900 are in service in Denmark, France, Germany, Italy, Luxembourg, the Netherlands, Portugal, Spain, Sweden and Canada.