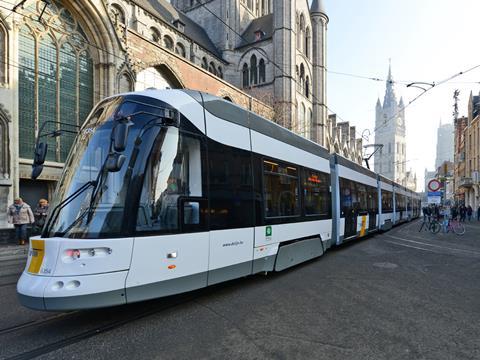 BELGIUM: Flemish public transport operator De Lijn has placed a €97m firm order for a further 40 Bombardier Flexity 2 low-floor trams to replace older vehicles in Gent and Antwerpen. The contract announced by Bombardier on June 2 is an option on a September 2012 deal and takes De Lijn's total order to 88 of the Flexity 2 design, which it has branded 'Albatros'
Gent is to receive 16 seven-section bidirectional vehicles, 43 m long with a capacity of 378 passengers. Antwerpen will receive 14 seven-section unidirectional cars with a capacity for 380 passengers, and 10 five-section unidirectional cars 31 m long with a capacity of 266 passengers.
The metre-gauge trams will be 2 300 mm wide, and have Bombardier's Flexx Urban 3000 bogies and Mitrac propulsion equipment. The heating, ventilation and air conditioning systems will have variable CO2-controlled fresh air flow.
'We are happy to be able to provide these two Flemish cities with a much-needed capacity increase with this order', said Roger Kesteloot, Director-General of De Lijn. 'The initial reaction to Albatros – the name that our passengers chose for the Flexity 2 trams – in Gent has been very positive.'