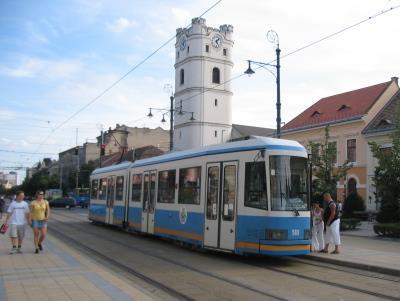 HUNGARY: On March 11 Mayor of Debrecen Lajos Kósa signed a 7·5bn forint contract with the ATK-Debrecen consortium for construction of the city's second tram line, between Debrecen Plaza and Doberdo Street. The work is expected to take two years to complete.
When the project was approved in April 2008, Line 2 was expected to enter service in the first quarter of 2011, with trams running through over the existing Line 1 between Debrecen Plaza and the terminus at the main station. Total cost of the project is put at 17·6bn forint, of which the EU is contributing 76%.
However, a formal decision on the supply of 18 low-floor cars to operate the line has been postponed, after losing bidders challenged the outcome of a recent tender. CAF submitted the lowest price of €44·1m, including maintenance and spare parts, and had been expected to sign the contract on April 2. Other bids were received from Stadler, Skoda, Ansaldo Koncar and PESA, but the last three were disqualified. The tender committee must now review the objections before the order can be confirmed.
For a full article on the Debrecen Line 2 project see the March 2009 issue of Metro Report International.