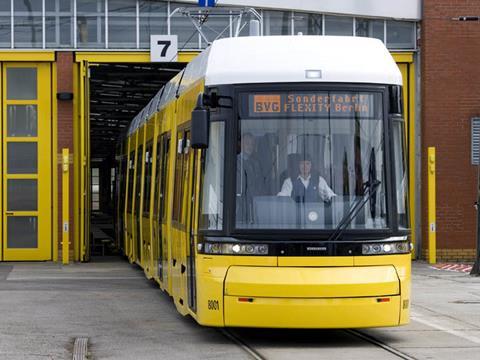 Praha city council approved the extension of metro Line A to Ruzyne Airport on September 18. Construction of the 13 km route from Dejvicka to Ruzyne, which will have nine stations, is due to begin next year and be completed by 2018, at a cost of KC20bn.
Metro Transportation Solutions, the Tel Aviv light rail franchisee, has been given more time to secure financing for the project, with financial closure delayed again from September 2008 until the end of January 2009. MTS will also increase its guarantee to the state by an additional 20m shekels until March 2009. The Ministry of Transport is threatening to cut NTA Metropolitan Mass Transit System's 2009 budget due to delays in starting work on the Red Line.
El Tiempo in Colombia reported on October 6 that the Spanish consortium of Sener-TMB has been awarded a contract worth 15m pesos to design Bogotá's first metro line and determine its financial and legal structure. The decision now needs approval from the World Bank, which is advising the Bogotá government.
The first monorail in Spain was opened on September 3 serving the Plaza Imperial shopping centre in Zaragoza. The 700 m long driverless line, which has two stations, was constructed by ISM SA and Sener and is fitted with Manusa platform screen doors.
Barcelona Metro's Line 3 extension between Canyelles and Trinitat Nova entered service on October 5. The 1·8 km section, which has 2 stations at Roquetes and Trinitat Nova, took five years to complete at a cost of €142·8m, and links Line 3 to lines 4 and 11.
The EIB is to lend €16·3m to the Romanian city of Oradea. The direct loan to the municipality, the first of its kind in the country, will help fund the acquisition of 10 ULF trams as part of a modernisation of public transport across the city.
On October 15 the city of Warszawa announced a second tender for the 6 km, seven station Phase 1 of metro Line 2. The decision was prompted by difficulties in transferring the allocated EU finance to other projects, and interest expressed by Chinese companies, which indicated that they could complete the project on time and within the budget. However, another Euro 2012 project, the proposed line from Katowice to Katowice Pyrzowice airport, has now been cancelled. Projected costs for the 28 km line were put at 1·2bn zloty, far in excess of the allocated budget of 167m zloty. The money may be transferred to the Warszawa metro project instead to avoid the risk of the EU funding being withdrawn.
The government in Canberra has set up a Light Rail Reference Group to consider introducing light rail in the city. Its work will feed into the business case to be developed by PricewaterhouseCoopers, which was appointed to prepare a feasibility study on September 30.
After five years of construction work, the 18 km section of Metro de Sevilla Line 1 between Ciudad Expo and Condequinto will be inaugurated on December 20. The remaining four stations should enter service in spring 2009.
Hitachi has received an order worth ¥35bn to supply vehicles and signalling for a 24 km monorail to be built in Daegu. Construction will begin in 2009, with operation due to start in October 2014.
The Hungarian city of Debrecen and municipal transport operator DKV have signed an agreement to develop a proposal for a second tram line. EU funding is being sought for the line, which would leave the existing route at Hunyadi János and run to a loop at Doberdo. A further 18 trams would be required.
The EIB has agreed to provide a €175m loan to finance the CLEO project in Orléans. The project includes a second tram route with 25 stations, six park-and-ride facilities, cycle paths and pedestrian crossings, and will cost around €350m in total. Running across the city from east to west, the 11·8 km line includes 90% on a reserved alignment. Alstom will supply 21 Citadis 302 trams, for which the design was unveiled on September 17 during European Mobility Week. Operations are due to start in mid-2012.
Serveis Ferroviaris de Mallorca have ordered 11 EMUs from CAF for €54·2m. They will be used on the Palma – Inca line once electrification has been completed. The three-car trains have a maximum speed of 100 km/h, allowing journey times to be reduced by 8 min to 30 min.