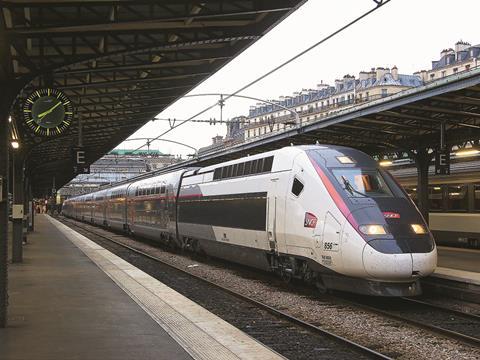 FRANCE: Announcing its results for 2017 on February 27, SNCF Group reported revenue of €33∙5bn, up 4∙2% on the year before 'thanks to commercial momentum' driving strong growth in passenger and freight traffic. Combined with 'strict financial discipline' and a cost-cutting programme that generated €830m of savings in 2017, this saw EBITDA increase by 16% to reach €4∙6bn. However, this performance remained 'insufficient', according to the group, given the structural losses at its infrastructure division SNCF Réseau where net debt grew by 3∙8% year on year to reach a 'massive' €46∙6bn.
The 'transformation' of train operating division SNCF Mobilités continued during 2017, when 'its business rebounded as the economy picked up' and revenue grew by 4∙7% to reach €31∙8bn. Revenue at long-distance passenger business Voyages SNCF was up 8∙6% at €7∙4bn, where revenue from domestic high speed services grew by 8∙7%, Thalys was up by 12∙0% and Eurostar up 8∙1%.
Revenue from Paris commuter services, TER regional services and the Intercités network of conventional long-distance passenger trains was up 2∙5% at €8∙1bn, while freight business SNCF Logistics reported a 3∙1% increase in revenue which reached a total of €10∙2bn in 2017. EBITDA at SNCF Mobilités was up 30% year on year at €2∙8bn.
Revenue at SNCF Réseau was up 0∙9% at €6∙5bn, including €3∙6bn of income from track access charges paid by SNCF Mobilités, up 1∙9% on the year before. Reflecting the opening of three high speed lines and a 2∙1% increase in train-km operated on the national network in 2017, EBITDA at SNCF Réseau was up 1∙6% at €1∙9bn. With a self-financing capacity of €1∙9bn and total investment of €5∙2bn, net debt increased by 3∙8% to reach €46∙6bn.
SNCF Group President Guillaume Pepy said that the 2017 results reflected the state railway's efforts to tailor the service it provides to meet the expectations of passengers, local authorities and businesses. 'We're becoming more competitive', he said, noting that 'our three priorities are unchanged: accelerating modernisation of the network and rolling stock; making our offer more robust to serve customers better; and delivering better, more personalised customer information.'