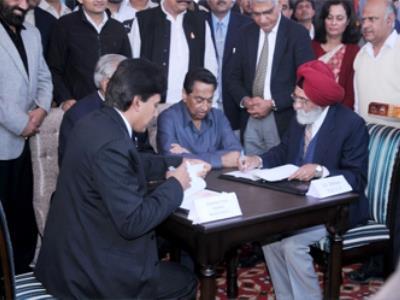 INDIA: Construction of an 11·2 km extension of Delhi Metro Line 5 was initiated on February 2 with the laying of a foundation stone at Bahadurgarh Sector 9 by Minister for Urban Development Kamal Nath and the Chief Minister of Haryana state Bhupinder Singh Hooda. The ceremony was also attended by Delhi Metro Rail Corp Chairman Dr Sudhir Krishna and Managing Director Mangu Singh.
Under an agreement between DMRC and Haryana Urban Development Authority, signed as part of the same ceremony, the standard-gauge Line 5 running west from Inderlok and Kirti Nagar to Mundka will be extended across the city boundary to Bahadurgarh, serving new developments in the expanding National Capital Region. Civil engineering works are expected to get underway in July.
Due to open in March 2016, the Mundka – Bahadurgarh extension has been costed at Rs19·9bn. The elevated line following National Highway 10, (Rohtak Road) will serve a further seven stations, of which four will be in Delhi and three in Haryana. These will be located at Mundka Industrial Area, Ghevra, Tikri Kalan, Tikri Border, Modern Industrial Estate, Bus Stand and Bahadurgarh (City Park). A new rolling stock stabling facility is to be built near the Modern Industrial Estate to augment the existing Line 5 depot at Mundka.
Journey time from City Park to Mundka will be 20 min, with end-to-end timings of 45 min from City Park to the Line 1 interchange at Inderlok or 50 min to the Line 3 connection at Kirti Nagar. According to DMRC, the extension is expected to carry around 142 000 passengers/day when it opens, rising to 197 000 by 2021. This will be handled by an expanded fleet of six-car trainsets.