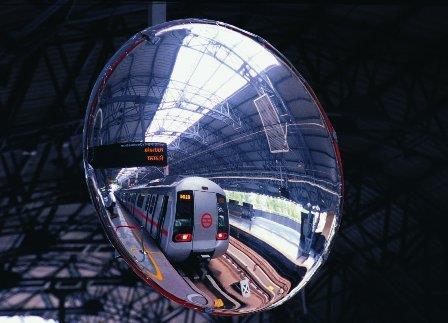 INDIA: Union Urban Development Minister Jaipal Reddy and Delhi Chief Minister Sheila Dikshit officially opened Delhi metro's first standard gauge line on April 2. They flagged off a train at Inderlok station on Line 5 before taking a ride as far as Paschim Vihar.

The 15·1 km corridor from Inderlok to Mundka, which has 14 stations and will be known as the Green Line, opened to the public at 06.00 on April 3 and carried more than 60 000 passengers on the first day. The line serves residents in the city's densely-populated western and north-western suburbs. Journey time between Inderlok and Mundka is 29 min.

Line 5 has been equipped with Bombardier Cityflo 350 signalling and will be worked by a fleet of Hyundai Rotem four-car trains assembled at the BEML plant in Bangalore. A new depot has been built at Mundka.

A 3·3 km branch line connecting Ashok Park on Line 5 with Kirti Nagar on Line 3 is expected to open in June, as is a 12·5 km extension of Line 2 from Central Secretariat to Qutab Minar.