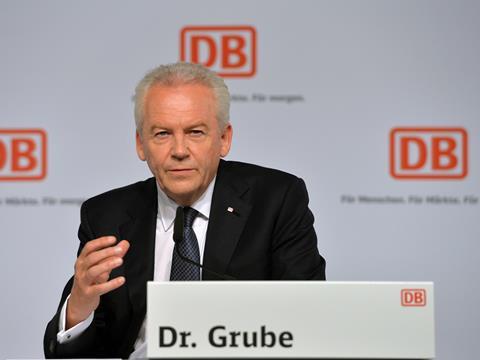 GERMANY: Deutsche Bahn's Supervisory Board unanimously approved Dr Rüdiger Grube's resignation as Chief Executive and Chairman of the Management Board on January 30, and the termination of his contract with immediate effect.
Grube's current contract was due to expire this year, and according to business newspaper Handelsblatt the Supervisory Board had only been prepared to agree a two-year extensision, not the three years he had sought.
Chief Financial Officer Dr Richard Lutz has taken over as interim Chairman of the Management Board in accordance with DB's procedural rules. DB said the Supervisory Board would make a 'timely decision' on a permanent successor.
The Supervisory Board thanked Grube for his 'unusually great commitment' to the company since become Chairman on May 1 2009. 'Grube has made a lasting contribution to the future, especially with regard to the future growth of DB Group', said Supervisory Board Chairman Prof Dr Dr Utz-Hellmuth Felcht. 'The digitalisation of DB Group is also linked to his name, as is the quality programme, Railway of the Future.'