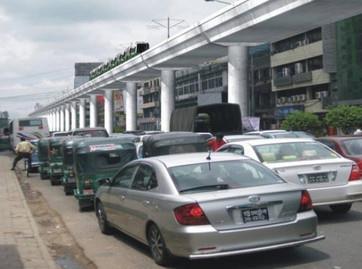 BANGLADESH: Prime Minister Sheikh Hasina laid the foundation stone for the Dhaka metro on October 31 at Bhawal Badre Alam University College Ground. The project is to be developed with Japanese assistance, following the signing of a 40-year soft loan agreement with JICA in February valued at ¥10·477bn.
The first line to be built, designated Line 6, would run from Uttara North to Bangladesh Bank in Motijheel via Pallabi, Hotel Sonargaon, Ruposhi Bangla, Doel Chattar and Topkhana Road. The 20·1 km north–south route would be elevated and have 16 stations.
According to the government's Planning Division, the line is to be constructed in three phases. The 11 km from Pallabi to Sonargaon Hotel is due to be completed by 2019, the 4·4 km from Sonargaon Hotel to Bangladesh Bank is scheduled for 2020 and the 4·7 km Uttara – Pallabi section for 2022.
The project is being managed by the Communications Ministry's Dhaka Transport Co-ordination Authority. Services would be operated by Dhaka Mass Transit Co.