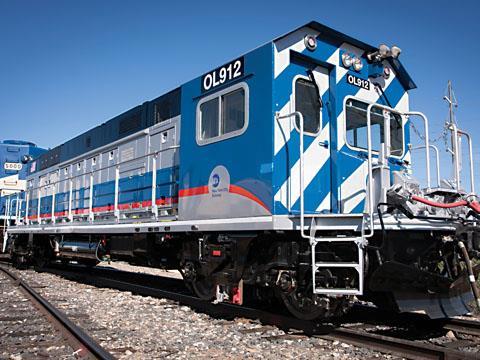 USA: MTA New York City Transit has taken delivery of the first of 28 diesel-electric locomotives ordered from MotivePower for use on works trains when the third rail power supply is turned off.
Designated MP 8AC-3 by the manufacturer and R156 by NYCT, the 51 tonne locomotives have been specially-designed to meet the subway's restricted clearances, 29 m radius curves and strict weight limits on elevated tracks. Service-proven metro car components have been used, including Kawasaki bogies and Siemens AC traction equipment.
Top speed is 50 km/h. To reduce emissions and fuel consumption the heating and battery charging systems are powered by a Caterpillar auxiliary diesel engine. This will keep the Cummins QSK23 prime mover warm during cold weather.
Monitoring and diagnostic systems are fitted, along with automatic fire suppression and wheel slip and slide detection. There is provision for installation of communications-based train control equipment.
The first locomotive was delivered in May. All 28 are scheduled to arrive by mid-2013, increasing capacity and replacing several locomotives which are almost 50 years old.