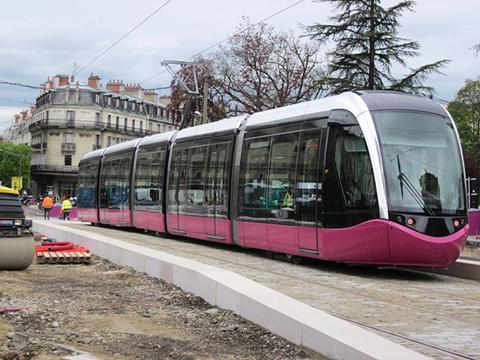 FRANCE: The first line of a two-route tram network opened in Dijon on September 1 with a weekend of celebrations and inaugural rides, before full commercial services started on September 3.
The 8·5 km starter line runs on an east-west alignment from the city's main line railway station to the eastern suburb of Quetigny, serving 17 stops. The route passes through the city centre, and other stops are located close to the university of Dijon, the main hospital campus and the football stadium.
According to project manager Egis Rail, the first line has opened 'within budget and six months earlier than scheduled'. A second line covering 12 km from Valmy to Chenôve is due to open on December 8. A fleet of 33 Alstom Citadis low floor trams has been delivered as part of a joint procurement totalling 55 cars with Brest, which opened its starter line in June. The Dijon municipality claims the joint procurement has delivered economies of scale of 25%.
Dijon's tramway is operated by Keolis, which already runs local bus services under the Divia brand. The company says that 100 000 people have signed up to a contactless smart card ticketing system which is being rolled out across the Divia network.