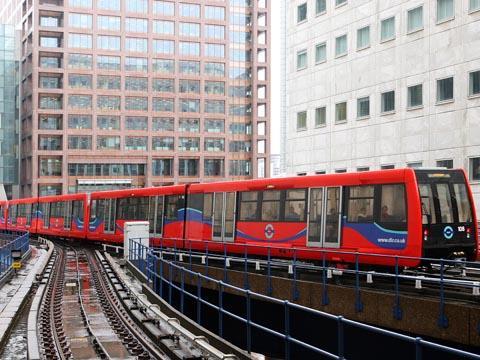 UK: The launch of three-car services on the Docklands Light Railway between Tower Gateway and Beckton on May 9 marked the completion of a £325m project to upgrade the network for longer trains.

'With passenger numbers increasing on the DLR every year, having the ability to run a three-car service right across this crucial piece of our transport network is vital', said Mayor of London Boris Johnson.

Three-car trains will run at 8 min headways on the Tower Gateway — Beckton route between 07.00 and 19.30, with shorter trains operating later in the evening.
Work on the upgrade began in early 2007 and involved lengthening platforms, upgrading track and signalling equipment, improving Tower Gateway and building a new station at South Quay.

Bombardier has supplied 55 new B2007 cars costing £100m to supplement the B92 fleet. The first three-car train ran between Bank and Lewisham on February 23 2010.

A £211m extension from Canning Town to Stratford International along the former North London Line, due to open this summer, will also be capable of handling three-car trains. The DLR network is expected to carry up to 500 000 passengers/day during the 2012 Olympic Games.