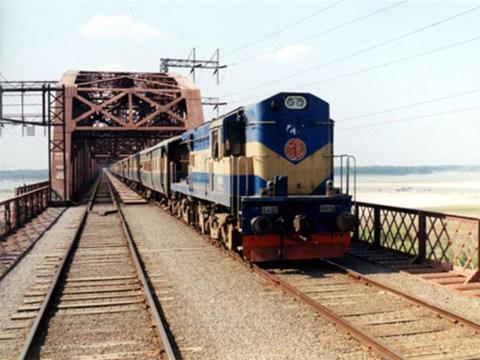 BANGLADESH: The government has signed a memorandum of understanding with Chinese contractors to regauge and double-track the Dhaka – Chittagong main line via Akhaura and Comilla.

According to Railways Minister M Mazibul Hoque, the work is to be undertaken by China Railway Eryuan Engineering Group, which last year was awarded the contract to develop the Padma bridge rail link. The upgrading is expected to be completed by the end of 2019, at an estimated cost of 3·1bn taka, of which approximately 2·5bn taka is to be provided by China under a project assistance agreement.

At present the Bangladesh Railways network east of the capital is entirely 1 000 mm gauge, although 1 676 mm gauge and dual-gauge routes have been developed to connect with the broad gauge network in the west of the country. However, a broad-gauge cross-border link between Agartala and Akhaura is being developed under a co-operation accord with Indian Railways.

Work is expected to start in August on a 100 km dual-gauge extension running south from Chittagong to Cox's Bazar, which is being partially funded by the Asian Development Bank.

The minister confirmed that proposals for upgrading the Dhaka – Chittagong main line had been approved by the Ministry of Planning following discussions with the Ministry of Railways Ministry last year, while the Economic Relations Division had recommended implementation of the project using Chinese government finance.