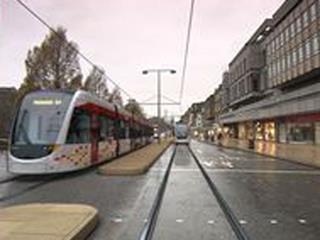 UK: By a single vote, City of Edinburgh Council resolved to go ahead with completion of a truncated initial phase of the tram project on June 30.
The 13·4 km of Line 1 from the airport to St Andrew Square will be completed, however the eastern section to Leith and Newhaven is on hold and could be dropped.
Construction has become mired in contractual disputes. The council also considered abandoning the project and ending the contract through a commercial or legal settlement, or continuing with the ongoing dispute process which officials believed would incur 'substantial additional expenditure' and provide 'no certainty on final costs, programme or a likely completion date'.
Around £500m of the £545m initially allocated to Line 1 has been spent, and there is now a funding shortfall of around £228m. Council Chief Executive Sue Bruce is to report on financial options, timescales and associated risks for the shortened line before a council meeting on August 25 which is expected to confirm the go-ahead for the first phase, ahead of the August 31 deadline for mediation agreed with the contractor.
'I believe that a first phase to St Andrew Square is absolutely the right decision for moving forward with the project', said city council leader Jenny Dawe. 'I look forward to the further report from the Chief Executive later in the summer, which I believe will strengthen the case for building to St Andrew Square and beyond, whilst giving more clarity on funding.'