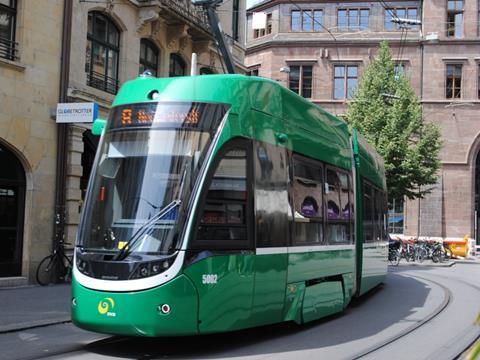 SWITZERLAND: Saft is to supply onboard batteries for the 61 Flexity trams that Bombardier is supplying to Basel transport authority BVB.
Each tram is being equipped with two 24 V Saft MSX battery systems. These would provide emergency short-term back-up traction power to enable the tram to travel short distances without drawing power from the catenary. They are intended for use when the main power supply is interrupted, and for use in the depot. Each battery system comprises 19 MSX200 nickel batteries, which can operate in ambient temperatures between -30˚C and 50˚C.
BVB ordered 61 Flexity trams for SFr255m in 2012 in what it described as its largest ever tram order. The 100% low-floor vehicles being manufactured in Bautzen and Wien will come in five- and seven-section variants. In 2013 Saft supplied batteries for the first two trams, which are now in test operation. Deliveries of the remaining batteries are due to end in 2017.