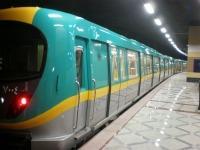 EGYPT: A group of Spanish public bodies has been selected to provide technical and legal support to the Cairo metro on the reform of safety regulations, procedures and practice. The project is one of a series of twinning initiatives promoted by the EU to promote co-operation between EU member states, candidates and Mediterranean countries.
The €1·3m EU-funded project will commence in September and last 27 months. It will help the Cairo metro operator to build an internationally compliant safety management system. Staff training will also be provided under the project.
The Catalan Ministry of Territory & Sustainability is leading the project, and Barcelona public transport operator Transports Metropolitans de Barcelona will provide technical management. The other participants are Ferrocarrils de la Generalitat Valenciana, Ferrocarrils de la Generalitat de Catalunya, Ineco and Fundació Internacional i per a Iberoamèrica d'Administració i Polítiques Públiques.