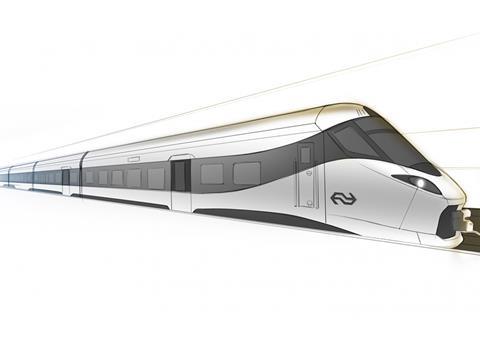 NETHERLANDS: Finance Minister Jeroen Dijsselbloem informed the lower house of parliament on March 8 that he had approved a request from national passenger operator NS to purchase two additional Alstom electric multiple-units, as an option on its Inter-city New Generation procurement programme.
Authorised by the Ministry of Finance as the state's shareholder in NS, the trains are to be funded by the operator 'at its own risk'. The two additional units are intended to operate Amsterdam – Brussels Benelux services from 2025, when the current fleet of ICR locomotive-hauled coaches reaches the end of its service life. The two EMUs are intended to ensure continuity of service on the international route, whoever might operate the services once the current concession held by NS expires. A decision on replacing the rest of the ICR fleet is to be taken at a later stage.
In July 2016 NS awarded Alstom a contract to supply an initial 49 five-car and 30 eight-car IC-NG trainsets for entry into service on IC Direct and Den Haag - Eindhoven services from 2021. The specification required a 200 km/h unit able to run on the 25 kV 50 Hz HSL-Zuid high speed line as well as the 1·5 kV DC conventional network. Alstom beat three other bidders to win the contract, with a design from its Coradia family.
According to the minister, exercising an option for two additional IC-NG trainsets is seen as mitigating any risks arising from engineering design or gaining approval to operate in the Netherlands and Belgium, leaving more time to develop plans for the complete fleet replacement.