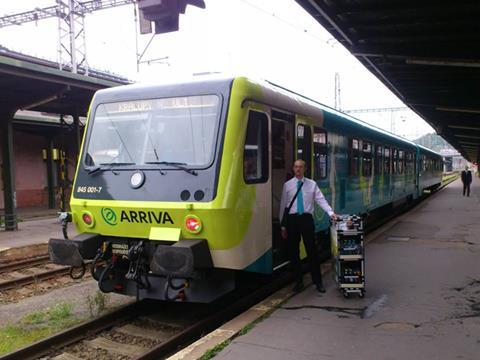 CZECH REPUBLIC: Praha transport authority ROPID has selected DB's Czech subsidiary Arriva Vlaky to operate suburban train services on route S41 between Roztoky u Prahy and Hostivař via Holešovice and Libeň.
Arriva's first subsidised train operating contract in the Czech Republic will initially run for three years from the December 9 2018 timetable change, with the route being renumbered as S49.
Arriva was the lowest bidder for the contract, beating offers from state incumbent ČD and private operators LEO Express and RegioJet.
ROPID has for long been dissatisfied with the national operator's performance owing to a lack of suitable rolling stock. Until early August, trains were operated by ageing and unreliable Class 451 EMUs, which have been replaced by Class 814 Regionova DMUs or Class 810 railcars despite the line being electrified; ČD was not willing to invest in new trains without being confirmed as the future operator.
Arriva will operate the services using a fleet of six rebuilt Class 845 (ex-DB Class 628) two-car DMUs with wi-fi and at-seat sockets. Free water and newspapers will be offered, and air-conditioning to be available from summer 2019.
ROPID has made the use of EMUs a condition of a possible extension of the contract for seven years from December 2020.
Freight operators had expressed concern that an increase in S49 services on the mostly single-track line from Libeň to Hostivař could affect the reliability of long-distance freight flows. ROPID has reached a compromise agreement restricting the Arriva service to Hostivař to peak hours only.
Meanwhile, ROPID and the Středočeský region plan to award ČD a contract to operate suburban route S9 between Praha Hlavní and Benešov u Prahy, a route where Arriva has run eight pairs of weekday semi-fast trains at its own risk since February 2016.