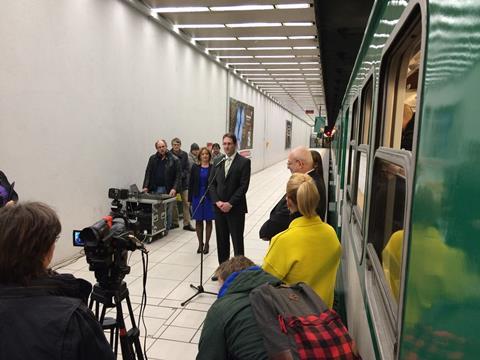 HUNGARY: National rail operator MÁV took over operation of the HÉV suburban lines from Budapest transport operator BKV on November 24. This follows an agreement in February between Mayor István Tarlós and Minister of National Development Miklós Seszták.
Newly created MÁV subsidiary BHÉV is now responsible operating all HÉV lines, with operational expenditure funded by central government and Budapest municipality. This replaces the previous arrangement where the municipality alone financed operations. MÁV has also taken over ownership of the infrastructure from BKV.
The level of service will initially remain the same, but BHÉV CEO Márton Feldmann said that the new operator is committed to improving this. There are also plans to renew track and rolling stock, but these not currently funded.
The average age of the fleet of 98 electric multiple-units is 41 years. BKV recently refurbished a three-car trainset in-house, but Feldmann said that an electrical and mechanical overhaul would also be required. MÁV CEO Ilona Dávid said that MÁV has access to better technology for modernisation.
Developments are also envisaged as Budapest bids for the 2024 Olympic Games. The proposed venues are near Közvágóhíd, which is served by HÉV lines H6 and H7. Conversion of these lines to allow through running with the city's tram network have been proposed.