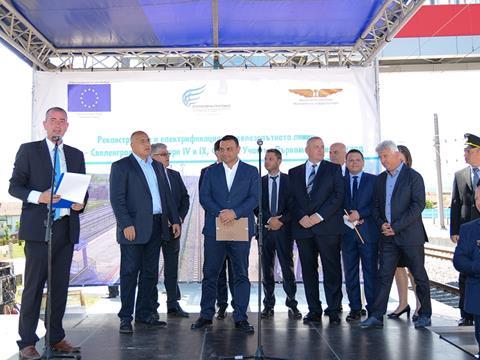 BULGARIA: Prime Minister Boyko Borisov and Minister of Transport Ivaylo Moskovski attended a ceremony on May 15 to mark the completion of a 10-year project to enhance the route from Plovdiv to the Greek and Turkish borders near Svilengrad. Guests travelled on a special train which reached 205 km/h between Lyubimets and Svilengrad.
The final sections of the route to be modernised were between Dimitrovgrad and Simeonovgrad and from the refurbished Lyubimets station to the Greek border.
The modernisation project has cost 424m leva, including upgrading of signalling and telecoms and Dimitrovgrad, Simeonovgrad, Nova Nadezhda, Harmanli, Lyubimets and Svilengrad stations. This has raised the maximum speed to 120 km/h for freight trains and 160 km/h for passenger trains, and potentially 200 km/h for tilting trains.
Moskovski said the line west from Plovdiv to Septemvri is to be modernised in the next few months, and design work will be undertaken for the Mezdra – Gorna Oryahovitsa, Ruse – Varna and Vidin – Sofia routes. Moskovski added that that within a few years all freight trains between Serbia, the Black Sea port of Burgas, Turkey and Greece would be using modernised infrastructure.