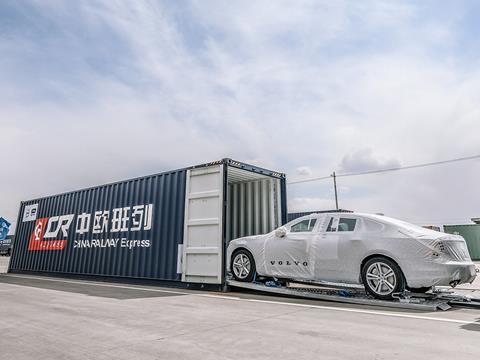 INTERNATIONAL: Cars manufactured at Volvo's Daqing plant in China have been exported to Europe by rail for the first time.
The S90 executive saloons were transported in specially designed 40 ft shipping containers. These can hold three cars at different angles in order to maximize the use of available space, and have special fixtures to prevent movement during transit.
Delivery was organised by Changjiu Logistics, HAO Logistics, Far East Land Bridge and DB Cargo, taking 20 days to cover the 9 832 km route via Russia, Belarus, Poland and Germany to the distribution centre at Zeebrugge in Belgium. The initial weekly service is expected to increase to four or five trains per week as car production increases.
'If we ship the cars by sea it will take up to 60 days,' said Xiaolin Yuan, Senior Vice-President Asia Pacific at Volvo Car Group. 'We also managed to find a balance between saving time and controlling costs.'