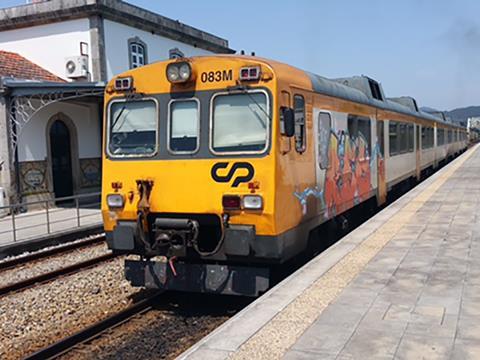 PORTUGAL: The government has approved a €45m capital investment programme for both national operator CP and rolling stock maintenance business EMEF.
To be funded from the state budget, the 2019-22 plan approved on June 27 has two parts. The first covers investment of €9m in 2019, primarily to enable EMEF to reopen a workshop in Guifões near Matosinhos, north of Porto, which closed in 2011. This will be used to refurbish around 70 stored passenger vehicles, including multiple-units, hauled stock and locomotives, some of which are up to 50 years old. The funding will cover the recruitment of 120 employees at CP and 67 by EMEF.
The second part of the capital plan would be implemented from the end of 2020 and covers refurbishment of most of the rest of the CP fleet.
CP and EMEF are also to merge by the end of this year to facilitate 'a closer working relationship and more optimal use of resources'. This is to be completed before the Portuguese market is opened to competition under the Fourth Railway Package.
The main objective of the spending programme is to mitigate the severe lack of rolling stock CP faces, while also bolstering EMEF to enable it to take on more refurbishment and overhaul work in the future. This should also strengthen the domestic rail supply sector, the government believes.
To alleviate its lack of trains, CP currently leases 24 DMUs from Spanish national operator RENFE under a contract worth around €8m/year. However, this agreement will end in 2022, and it is unlikely that the delivery and commissioning of 22 regional trains, tendering for which was initially signed off by the government in September 2018, will have been completed by then.