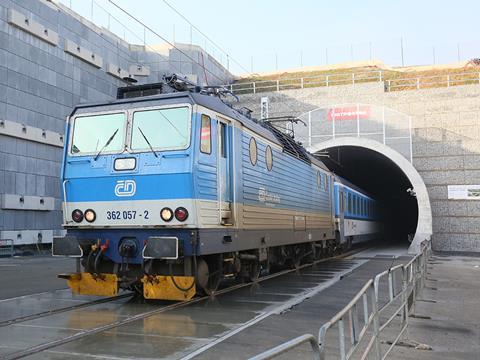 CZECH REPUBLIC: Passenger services began using the country's longest railway tunnel on November 16, the day after the first revenue freight train.
With a 4 174 m long northern bore and 4 150 m southern bore, the tunnel under the Chlum and Homolka hills near Ejpovice to the east of Plzeň is the main feature of a new 14·1 km double-track alignment between Rokycany (Ejpovice) and Plzeň-Doubravka. This is 6·1 km shorter than the 20·2 km route via Chrást, which will now be partly closed.
Trains are initially only using the southern bore until December 7, and will run at a maximum speed of 50 km/h until the launch of the full service and 160 km/h running with the December 9 timetable change. This will reduce the journey time between Plzeň and Praha-Smíchov by 11 min.
The slab track in the tunnel has been designed for a maximum of 200 km/h, and testing at this speed is planned for 2019. ETCS is due to be installed in 2021.
Boring was undertaken by a consortium of Metrostav and Subterra using a 115 m long Herrenknecht S-799 TBM which began work on February 3 2015. The southern bore was broken through on June 11 2016, and the northern bore followed on October 7 2017.
Progress was delayed by more than a year because of unstable soil, excessive groundwater and archaeological surveys. This increase the cost increased to a final total of KC6·78bn, of which KC3·52bn will come from EU funds.
The previous longest tunnel in the country was the 1 758 m Březenský tunnel near Chomutov which opened in 2007, overtaking the 1 747 m Špičácký tunnel on the Plzeň – Železná Ruda line dating from 1877.