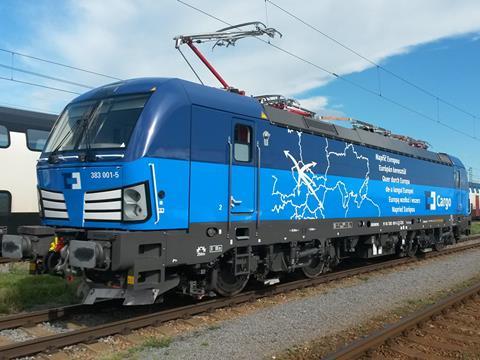 CZECH REPUBLIC: National freight operator ČD Cargo announced a KC300m order for a further three Siemens Vectron MS electric locomotives on May 2. The locomotives are scheduled to be delivered from the manufacturer's München-Allach plant by early 2018.
The latest order has been placed as an option on an April 2016 contract for five Vectrons, which were delivered between May and September last year.
The Class 383 locomotives are rated at 6·4 MW, have a maximum speed of 160 km/h and can operate under 15 kV 16·7 Hz, 25 kV 50 Hz and 3 kV DC electrification. They will be fitted with ETCS Level 2, and as well as using the Czech network can operate in Slovakia, Austria, Germany, Poland, Hungary, Slovenia and Romania.
ČD Cargo plans to deploy the additional locomotives on its flagship freight flows including intermodal trains serving Germany's North Sea ports, automotive trains from the Czech Republic, Slovakia and Romania to Falkenberg, Hamburg and Bremerhaven and to haul swapbodies between Brno and Rostock. The locomotives will also run to Braunschweig, Koper and across Austria.
'So far we have not experienced any technical faults with our existing fleet of Vectron locos, which turn a daily average of 700 km each, although a daily mileage exceeding 1 000 km is not uncommon', said ČD Cargo CEO Ivan Bednárik when the additional order was announced.
ČD Cargo has reported sales of KC11·7bn and a net profit of KC935m for 2016. It carried 65·5 million tonnes of freight, down 1·4 % year-on-year, with domestic traffic dropping by 8 % and international traffic increasing by 11 %.