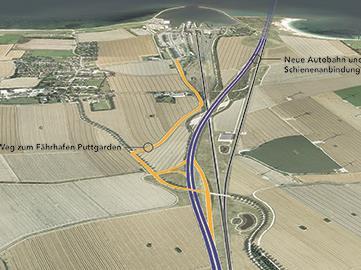 GERMANY: Under a letter of intent signed by Schleswig-Holstein's Minster for Transport, Economy, Labour & Technology, Reinhard Meyer, and DB Netz CEO Frank Sennhenn a double-track electrified line on a new alignment would be built between Lübeck and Puttgarden to serve the Fehmarn Belt tunnel, due to open in 2021.
The letter of intent supports a treaty agreement between the Danish and German governments signed in 2008 committing both countries to enhance transport links on either side of the Fehmarn strait. DB Netz says that when the new line is completed, the existing single-track route would be decommissioned, enabling rail traffic to be routed away from the centre of several small towns along the route, including Ratekau, Grossenbrode and Sierksdorf. Nevertheless, the letter incudes a commitment to retain a local passenger service between Lübeck and Puttgarden via the new alignment.
'We want to develop our tourist resorts, but we also want more freight traffic transferred to rail for the journey to and from Scandinavia. There is an inherent conflict in these goals, but we feel that this option allows both to be met', Meyer explains.
DB Netz says that this preferred option will now be taken forward for more detailed examination with a view to preparation of a feasibility study and development of a definitive business case.
For a detailed account of the Fehmarn Belt fixed link project, see the July 2014 issue of Railway Gazette International, available to subscribers via our digital archive.