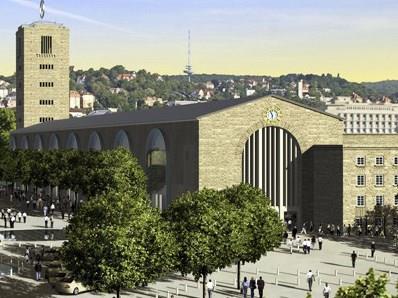 GERMANY: The Stuttgart 21 project to replace the city's terminus by an underground through station is likely to cost €1bn more than planned, and completion may be delayed from 2023 to December 2024.
According to reports in the German media citing sources in the Supervisory Board of Deutsche Bahn, the cost of the project has risen from a 2013 estimate of €6·5bn, including contingency of €539m, to €7·5bn —the price tag was €4·5bn when work commenced in 2010.
DB would not comment on the reports, but Stuttgart 21 is likely to be high on the agenda of a Supervisory Board meeting on December 13; an extraordinary meeting to decide on the future of the scheme is planned for January.
The project entails construction of an underground through station with eight tracks serving four platforms at right angles to the historic 16-track terminus. It was launched in February 2010 amid considerable controversy, and in September that year tens of thousands of protesters marched against the demolition of the two wings of the main station building, leading to violent clashes and claims that Germany's democracy was in question.
The project is in fact more complex than simply relocating the station underground, as it includes a direct link from the Mannheim – Stuttgart Neubaustrecke and a connection through the 9·5 km Filder tunnel to reach a planned new station serving the airport and the city's trade fair site. Beyond that the new alignment will continue to Wendlingen, where the new high speed line to Ulm commences. Another underground link will run in tunnel east from the new through station to join the old main line to Ulm via Esslingen.
The project cost is shared between the Federal government (with some EU funding), the Land of Baden-Württemberg, Stuttgart City, Stuttgart Airport and the Verband Region Stuttgart. DB has reportedly attributed the cost increase to high construction prices, delays in the planning process and strict rules regarding wildlife protection — colonies of two types of threatened lizard were found on two of the construction sites in 2015.
Stuttgart is the capital of Baden-Württemberg, and news of the higher cost and the delay quickly generated strong reaction from politicians and commentators, with some calling for the project to be cancelled — to date about 60% of the tunnelling work has been completed. Attention was also drawn to a leaked September 2016 report by the Federal Audit Office which said that DB was too optimistic about the assumptions it had made in a reassessment of the project in 2013, indicating that the cost could rise to €9bn.