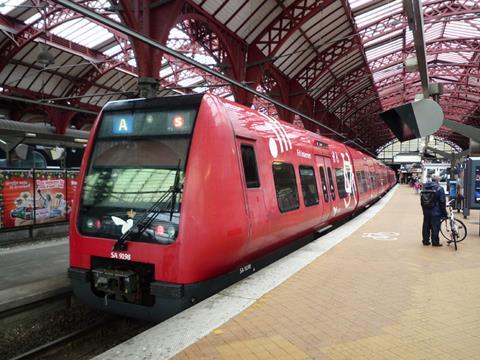 DENMARK: State operator DSB has launched a market sounding exercise in preparation for the procurement of a fleet of driverless trains to operate the København S-bane.
Building on work now underway to equip the S-bane with CBTC, the government decided in December 2017 to convert the stand-alone 1·5 kV DC network to fully-automated operation under Grade of Automation 4. According to DSB, conversion of the 85-year old network would create 'the world's largest and fastest driverless mass-transit system'. This would support 'growth and mobility in the metropolitan area' and 'contribute to a climate-friendly urban environment', creating capacity for more passengers and reducing congestion.
The Future Rail Network strategy, drawn up for the government with support from Rambøll and Parsons, envisages that the conversion to driverless operation should be undertaken as a public-private partnership. The conversion is intended to coincide with replacement of the current rolling stock from 2026, for completion within 15 years.
DSB's market engagement programme is intended to define the strategy for the next steps in the process, looking at rolling stock options, automation technology, lineside and platform safety systems, electrical and power requirements, civil engineering and infrastructure works, safety, operations and maintenance. Within each of these disciplines, DSB must determine how many of today's assets will remain fit for purpose and what is currently available. It also wants to determine which companies can assist with delivering the complex tasks and managing the associated risks.
Having invited expressions of interest, DSB plans to shortlist selected partners to assist with shaping the procurement tenders. It will also need assistance to develop a transition strategy to maintain current train operations while the automated systems are gradually phased in, which it recognises will be 'critical to the success of the project'.