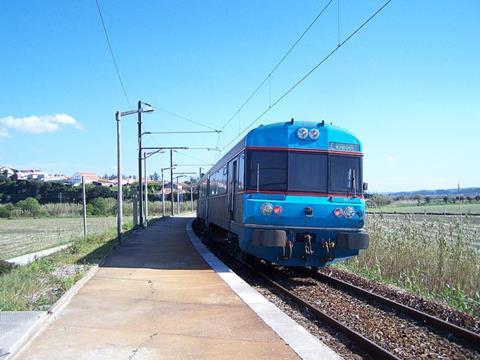 PORTUGAL: National environment agency APA has approved plans for the modernisation of part of the Linha do Oeste which links Lisboa with Louriçal and Figueira da Foz.
Being undertaken as part of the government's Ferrovia 2020 investment programme, the upgrading covers the 87 route-km between Meleças on the Lisboa suburban network, and Caldas da Rainha. Included in the work is electrification at 25 kV 50 Hz, level crossing removal, renewal of signalling and telecoms and work to refurbish stations and major structures.
Around Outeiro, 2 km of the railway is to be realigned, while the 10 km section between Meleças and Pedra Furada and the 6 km between Malveira and Sapataria are to be double-tracked. Once completed, journey times between Lisboa and Caldas da Rainha will be reduced to approximately 90 min. While the work has been approved to support modal shift and grow rail use, APA expects infrastructure manager Infraestruturas de Portugal to implement environmental protection measures to monitor noise and vibration, preserve water resources and biodiversity and to safeguard historical heritage. APA approval means that IP can now call tenders for the work, which is expected to cost €107m.
However, approval of the programme has already been significantly delayed, with the planned completion date of 2020 likely to be missed by up to two years. The delays are compounding ongoing problems along the route caused by a shortage of diesel rolling stock, which has led to routine cancellation of rail services and use of bus substitution. The northern section of the route between Caldas da Rainha and Louriçal is not covered by the programme and will continue to be operated by diesel railcars.