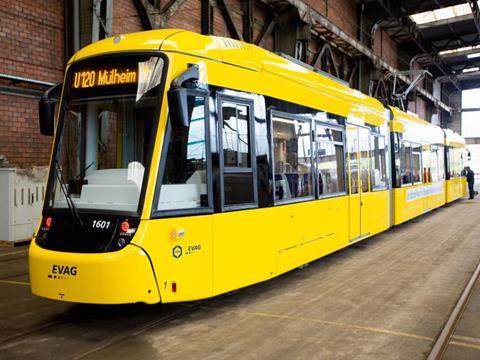 GERMANY: Essen and Mülheim transport authorities EVAG and MVG, along with their joint undertaking Via, are to become unified in Ruhrbahn GmbH. The new transport comapny will start operating from September 1 and will have its headquarters in Essen.
'With around 2 500 staff and covering an area with 760 000 inhabitants, Ruhrbahn at last brings our aim of unified public transport in the Ruhr area a decisive step closer', said Essen Lord Mayor Thomas Kufen.
Ruhrbahn will be the largest multi-city public transport undertaking in the Ruhr area and the second-largest transport company in the Verkehrsverbund Rhein Ruhr tariff area. It will operate 184 vehicles on three light rail and 11 tram lines, as well as 237 buses on 84 routes.
'We would like to provide our passengers with a more strongly individualised mobility offering in the future, which they can book through one platform', said Uwe Bonan and Michael Feller, Managing Directors of EVAG and MVG. They added that Ruhrbahn would invest in replacing diesel buses with cleaner technologies as part of its responsibility for reducing emissions.