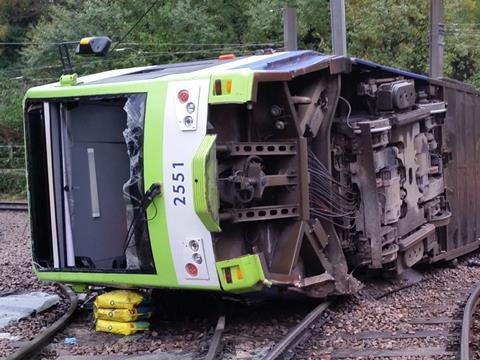 UK: On November 16 the Rail Accident Investigation Branch published its interim report into a fatal derailment on the Tramlink light rail network in Croydon, south London, which had taken place at around 06.07 on November 9.
The report provides key information and urgent safety advice ahead of the completion of RAIB's detailed investigation and the publication of its final report, likely to take some months. Separate investigations are being undertaken by the British Transport Police, Office of Rail & Road and other interested parties.
The derailment occurred on a curve of approximately 30 m radius on a section of fully-segregated line near Sandilands Junction. The maximum permitted speed approaching the curve is 80 km/h, with a reflective board around 30 m from the point of derailment marking the start of a 20 km/h speed restriction through the curve.
RAIB's review of the on-train data recorder has found that Bombardier Flexity CR4000 tram 2551 entered the left-hand curve at approximately 70 km/h. It then derailed and fell onto its right-hand side, travelling for approximately 25 m before stopping. The side of the vehicle in contact with the ground was severely damaged, and there was also damage to the track and lineside equipment.
The driver and approximately 60 people were on the tram, with seven passengers suffering fatal injuries and a further 51 being taken to hospital; eight had serious or life-threatening injuries.
RAIB has found no evidence of any track defects or obstructions which could have contributed to the derailment. Detailed examination of the tram has not yet been undertaken, but the initial investigation has not indicated any malfunction of the braking system.
RAIB said trams generally operate on line-of-sight principles, with no requirement for advance warnings of speed restrictions or for speed control systems to be installed. The data recorder shows that that some braking was applied in the 180 m before the speed restriction board, but this only reduced the speed from 80 km/h to 70 km/h by the time the tram had passed the board.
RAIB has issued urgent safety advice saying that before the junction reopens for passenger service Transport for London's London Trams unit which manages the network, and FirstGroup subsidiary Tram Operations Ltd which operates the trams, should 'jointly take measures to reduce the risk of trams approaching Sandilands Junction from the direction of New Addington at an excessive speed. Options for consideration should include the imposition of a further speed restriction before the start of the existing 20 km/h speed restriction around the curve and/or additional operational signs.'
Thanking RAIB for its interim report, FirstGroup CEO Tim O'Toole said he 'would like to reiterate how shocked and saddened we are by the tragic incident'. He said FirstGroup would 'continue to provide full support' to the ongoing investigation, and was 'working with Transport for London to follow the RAIB's advice and provide clear instruction on this to our drivers.'
Commissioner of Transport for London Mike Brown said test trams had now been operated over the section of line damaged in the accident, following repairs. 'We will follow RAIB's advice and, before service is resumed, will implement additional temporary speed restrictions and associated signage near Sandilands to supplement existing safety arrangements', he said. 'We are continuing to carry out a thorough safety assessment and are taking the advice of an independent panel of tram experts. We will only resume services for the local community once that rigorous assurance process has been completed.'