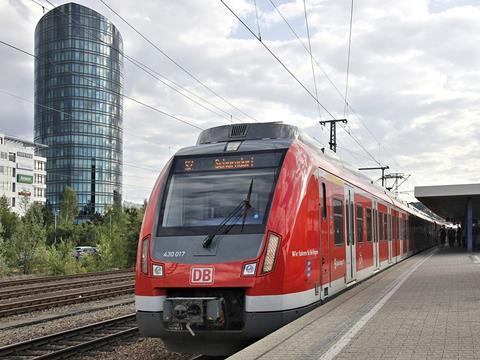 GERMANY: The Stuttgart regional government has approved the purchase of 58 four-car Class 430 electric multiple-units and the installation of ETCS Level 2 and automatic train operation on the entire S-Bahn fleet.
Trains from the €421·8m order are to be delivered by 2022. The Land of Baden-Württemberg is providing €106m, with the remainder coming from the region and operator DB Regio; the latter is covering the cost of two trains.
The rolling stock forms part of a capacity enhancement project that also includes the installation of ETCS Level 2 and digital interlockings for GoA2 automatic operation. DB Regio will equip the entire S-Bahn fleet of 215 EMUs with ETCS onboard equipment.
ATO over ETCS Level 2 is not currently in operation in Germany, and the pilot is being conducted as part of the nationwide Digitale Schiene Deutschland project. It is expected to become operational on regular services in 2025.
The capacity enhancements are being carried out in response to an expected growth in passenger numbers across the S-Bahn network. Major civil works such as building a second cross-city route or installing extra platforms at existing stations are not realistic, according to the regional government, so improvements must focus on implementing new technology on existing infrastructure.
ATO would enable shorter headways and faster speeds; together with extra rolling stock, these could increase capacity on the network by up to 20%.
Once the 58 extra EMUs are in service, all peak services would be formed of eight-car sets. There would be four more trains in the peak hour between Schwabstraße and Vaihingen, with two of these continuing to Böblingen; Line S6 services between Weil der Stadt and Feuerbach would gain an extra two trains/h. Services between Plochingen and Kirchheim/Teck and Nürtingen, and between Vaihingen and Neuhausen would become more frequent, running every 15 min.
Because of the extensive work needed for the pilot project, the region has agreed to extend DB Regio's operating contract for four years until June 2032, by when it would cover 1 million train-km a year. The operating contract that would take effect after that is now to be awarded in 2028.