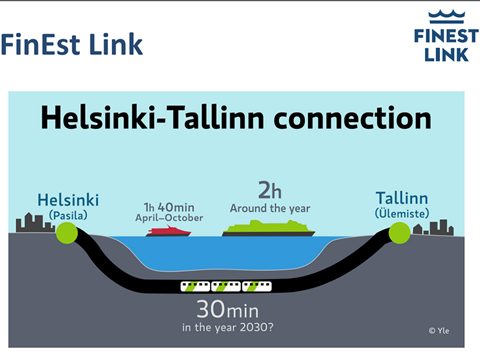 EUROPE: The Finnish and Estonian joint working group, which is developing proposals for the 92 km FinEst undersea railway tunnel between Helsinki and Tallinn, is due to publish its recommendations on how to proceed on May 7.
This will set out a vision for what should happen next, how the project could be structured, and how it could be financed.
Malla Paajanen, Chief Adviser to the Helsinki-Uusimaa Regional Council, told Railway Gazette International at the TEN-T Days event on April 25 that a further three to five years of in-depth studies would be needed before construction could get underway.
It is envisaged that the EU could meet 40% of the construction cost, with the remainder to be financed through a PPP.
Preliminary market studies suggest the two countries' governments would also have to subsidise the operating costs, with the ongoing support requirement being broadly equivalent to the total support they currently provide for public transport. While this would be a substantial commitment, it is not unfeasible, Paajanen suggested.
It is envisaged that the railway would be built to 1 435 mm gauge, rather than the broad gauge used in Finland and the Baltic States, to provide compatibility with the interoperable EU network.
The tunnel would form an extension of the Rail Baltica standard gauge line which is being planned to link Poland, Lithuania, Latvia and Estonia. Paajanen said Finnish exporters are keen to see Rail Baltica reach the intermodal hub around Helsinki Airport, as this would significantly reduce Finland's reliance on maritime transport to the rest of the EU.
The proposed tunnel would be significantly longer than the 57 km Gotthard Base Tunnel, 54 km Seikan Tunnel and 50 km Channel Tunnel, but shorter than the 120 km Päijänne Tunnel, which supplies the Helsinki region with water.