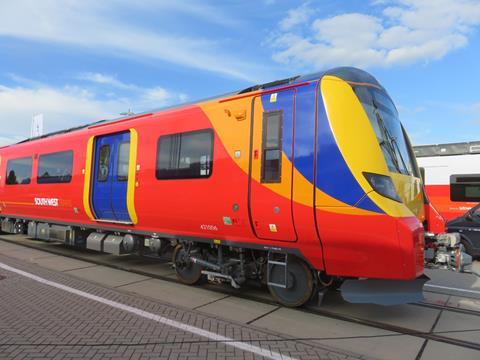 UK: The First MTR South Western Trains Ltd joint venture of the UK's FirstGroup (70%) and Hong Kong's MTR Corp (30%) has been selected as preferred bidder for the next South Western passenger operating franchise, the Department for Transport announced on March 27.
Formal award of the new contract is subject to a 10-day regulatory standstill period, and the Competition & Markets Authority is legally required to carry out a review. The franchise is scheduled to run for seven years from August 20 2017 to August 18 2024, with an option for an extension of up to eleven months at DfT's discretion.
'Tangible improvements'
South Western services carry around 220 million passenger journeys/year, with 1 700 trains/day serving more than 186 operator-managed stations on a 976 km network. FirstGroup Chief Executive Tim O'Toole said the winning bid would 'deliver the tangible improvements that customers and stakeholders have told us they want from this franchise'. The winning bid includes:
The introduction of 750 new suburban coaches mainly on the Windsor, Reading and London suburban routes by December 2020, formed as 90 EMUs with air conditioning, toilets and wide gangways and doors. This is a separate order to the existing contract for Siemens to supply Class 707 Desiro City EMUs. FirstGroup told Railway Gazette International that it was 'in advanced discussions with a number of train manufacturers and funders'.
18 five-car Class 442 EMUs are to be refurbished 'as new' for use on the London - Portsmouth route by December 2018;
The non-Isle of Wight fleet will be refreshed and equipped with free, more reliable wi-fi, at-seat charging points, free infotainment and real time information screens. There will be at-seat charging points on Class 442s, 444s and 450 EMUs by December 2018, and Class 158 and 159 DMUs by December 2020;
Simpler fares with pay as you go smart cards, mobile phone barcodes, flexible season tickets, new fares for 16-18 year olds and an automated delay repay scheme;
An app to act as a primary source of travel advice, 'pointing customers towards less busy trains or less busy coaches';
30% more peak seats per day at London Waterloo by December 2020;
Faster journey times and additional services on various routes from December 2018;
Sunday afternoon services matching weekdays on most routes from 2018;
£90m investment in stations, including a major refurbishment of Southampton Central, car park extensions and electric vehicle charging points;
Progressing plans for new stations including Park Barn, Merrow and Wilton Parkway;
Increased engagement with local stakeholders, including a £2·6m/year fund to support community projects from April 2020;
'The biggest rail operator apprenticeship scheme in Britain', with more than 100 apprenticeships each year;
Working with the Isle of Wight to develop proposals for 'to secure a more sustainable Island Line', and providing a £50 000 annual Customer & Communities Improvement Fund.
Premium payments
The franchise is to benefit from £1·2bn of investment, of which £80m will be directly funded by the operator. The extra capacity this will create is expected to help increase passenger revenues, which were £991m in 2015-16.
The new operator will make premium payments over the core period with a real net present value of £2·6bn in 2017-18 prices and discounted using the DfT's 'real' rate of 3·5%.
The joint venture shareholders will provide a loan of up to £30m, and £88m (of which 50% is bonded) in subordinated contingent loan facilities to the operator, as well as a £15m performance bond and a season ticket bond of up to £80m. The franchise terms include GDP and Central London Employment revenue protection mechanisms to mitigate the impact of exogenous economic factors outside the control of the operator, and a profit sharing arrangement whereby a proportion of profit in excess of pre-specified thresholds will be payable to DfT.
FirstGroup said it expects to achieve 'margins comparable with the recent overall industry average and to earn an appropriate return over the life of the contract, reflecting the franchise risk profile.' It expects a working capital inflow of approximately £100m principally relating to season ticket monies, to be treated as restricted cash.
Delivering real changes
'FirstGroup and MTR will deliver the improvements that people tell us they want right across the South Western franchise area, from Southampton and Portsmouth, to Bristol and Exeter, to Reading, Windsor and London', said Secretary of State for Transport Chris Grayling. 'This franchise will deliver real changes for passengers, who can look forward to modern trains, faster journeys and a more reliable service.'
Jeremy Long, Chief Executive for European Business at MTR Corp, said MTR was 'known across the world for the excellent quality of its rail services, and we look forward to working with FirstGroup to provide a best-in-class travel experience for passengers in London and the southwest.'
Stagecoach 'disappointed'
Stagecoach has operated the South Western services since 1996 under the South West Trains brand. 'We are disappointed that we have been unsuccessful in our bid for the new franchise', said Group Chief Executive Martin Griffiths. 'We believe we submitted a strong bid for the new South Western franchise.' He said the company would 'be seeking detailed feedback from DfT on the various elements of our bid.'