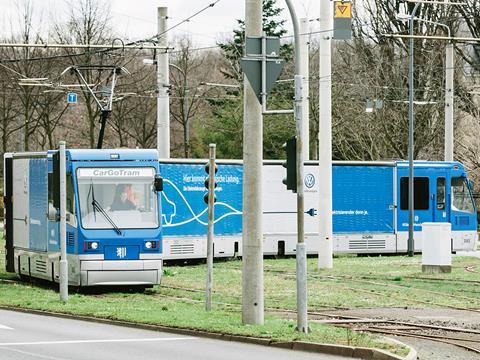 GERMANY: CarGoTram freight services returned to Dresden's tram network on March 24, carrying automotive parts between the Friedrichstadt freight terminal and Volkswagen's car factory at the Großen Garten on Straßburger Platz.
CarGoTram was first launched in 2001 to reduce the need for lorries to pass through the city centre to reach the factory. The two dedicated freight trams were purpose-built by Schalker Eisenhütte, and are able to carry the same load as three 18 m lorries.
Operations were suspended when the production of Phaeton cars in Dresden ended in April 2016, but have now restarted to support the production of the e-Golf electric car.
One of the two CarGoTram vehicles has been returned to service for the relaunch, and the second is expected to be available by November. The blue-liveried freight trams are operated by city transport company DVB, run up to three times per day and take around 25 min to cover the 5·5 km route which is shared with passenger services on the city's 1 450 mm gauge tram network.