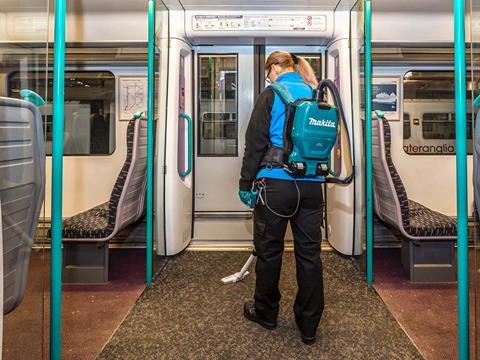 UK: Back-pack battery powered vacuum cleaners supplied by Makita are being used by passenger operator Greater Anglia to speed its cleaning processes and reduce the physical burden on cleaning staff previously who previously used machines powered from a main electricity supply.
'The new Makita back-pack vacs are giving us improved cleanliness levels, faster coverage and much easier operation', says Jonathan Shakallis, Presentation Operations Manager for Greater Anglia. 'We are able to be more detailed when we clean, especially areas like seats and edges.'
The back-pack vacuum cleaners weigh 4·3 kg, and are supplied with a full brace harness incorporating waist and shoulder belts.
The 36 V DC brushless motor produces a maximum airflow of 1·5 m³/min and sealed suction of 7·1 kPa. The high/low power selection is positioned on the machine control unit. Two 5·0 Ah batteries give 60 min run time in high mode and 90 min in low mode. The 3·0 Ah, 4·0 Ah or 5·0 Ah lithium-ion batteries are directly mounted on the machine and require 22, 36 and 45 min recharging periods.
'The cordless vacuums are easy to manoeuver and lightweight, and they have helped to improve our efficiency and reduce the physical efforts of our staff', says Shakallis. 'We find the twin batteries give us plenty of run-time on maximum suction, which has improved our turnaround time. We are also seeing an improved level of cleanliness for our passengers and this is reflected positively in our customer service scores. The greatest benefit is the increased production and ensuring staff are even more thorough when they clean.'