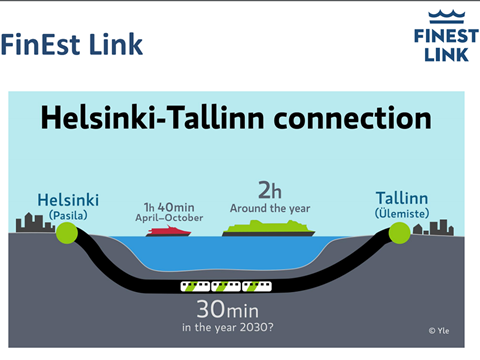 EUROPE: Two consortia have been appointed to study the feasibility of the FinEst Link proposal to build a 92 km under-sea railway tunnel linking Finland and Estonia.
A consortium of Ramboll Finland, Sito, Strafica, Urban Research and Pöyry Finland will estimate passenger and freight volumes and undertake a cost-benefit study. This will inform a future decision about whether there is a case for a tunnel, or whether it would be better to focus on developing the current maritime services and improving transport connections to the ports of Helsinki and Tallinn.
A second report examining the technical and economic feasibility of the tunnel, the construction and maintenance costs and how to link it to the wider transport system will be produced by Sweco, WSP and Amberg Engineering.
There were 10 expressions of interest in the contracts. 'We received high-quality offers from large planning groups that have international expertise in carrying out large transport projects and assessing their impacts and, moreover, have local expertise in both countries', said Kari Ruohonen, FinEst Link Project Manager at Helsinki-Uusimaa Regional Council, on February 15.
The FinEst Link project is led by Helsinki-Uusimaa Regional Council in co-operation with Helsinki City Council, Finnish transport agency Liikennevirasto, the city of Tallinn, the Estonian Ministry of Economic Affairs and Harju County Council. The studies are being supported by the EU's Interreg Central Baltic programme, with a budget of €1·3m over two years.
Previous preliminary estimates have put the cost of the tunnel at between €9bn and €13bn. It would be significantly longer than the 57 km Gotthard Base Tunnel, 54 km Seikan Tunnel and 50 km Channel Tunnel, but shorter than the 120 km Päijänne Tunnel which supplies the Helsinki region with water.