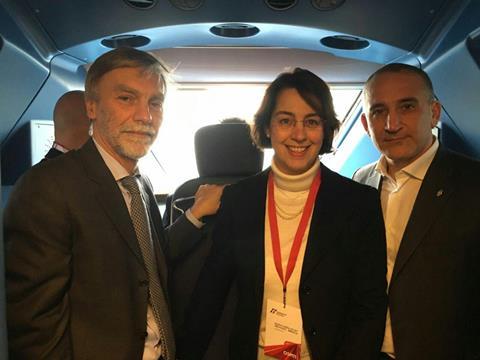 ITALY: A further section of the high speed railway across the north of the country opened for traffic with the European timetable change on December 11. The previous day, inauguration ceremonies included a celebratory run using an ETR1000 trainset carrying Transport Minister Graziano Delrio and other local and national dignitaries.


Built by the Cepav consortium, the 39·6 km section between Brescia and Treviglio is the latest stage in the developing Milano – Venezia high speed corridor, which will form the top section of the 'Big T' network of Altà Capacità/Alta Velocità routes across the country; the route also forms part of the EU's Mediterranean Corridor.

Inter-city services have been using the 27 km cut-off between the eastern edge of Milano and Treviglio since 2007, and together the two sections of line have reduced the Milano – Brescia journey time to 36 min. Infrastructure manager RFI expects this to fall further to just 30 min once remodelling of Brescia Centrale station has been completed; this would represent a 30% acceleration for inter-city trains compared to the conventional line. Among the service enhancements introduced on December 11 was a direct Frecciarossa service from Brescia to Roma and Napoli.

Principal structures on the new line include two viaducts, one of 1 287 m over the River Oglio and another of 957 m over the Serio river, plus a 525 m cut-and-cover tunnel to carry the line beneath an existing junction west of Brescia. No less than 11·7 km of connecting lines have been built to link the route to the existing main line, which is being progressively quadrupled to handle more freight and regional passenger traffic.

Maximum line speed is 300 km/h and minimum curve radius is 5 450 m; ETCS Level 2 train control equipment is provided throughout. Total construction cost was 'around €2bn', according to RFI.

Construction is expected to begin in the second half of 2017 on the next section of the Milano – Venezia corridor between Brescia and Verona, while initial works are also expected to start next year between Verona and Vicenza, the first phase of the last section of dedicated AV-AC infrastructure on the route.