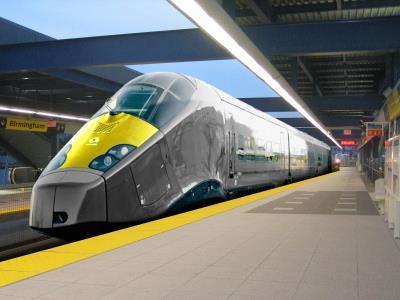 UK: A significant revision of the planned route of the second phase of Britain's national high speed network is proposed by HS2 Ltd Chairman Sir David Higgins in a report issued on July 7.

Reflecting a heated debate among local politicians, business leaders, planners and transport officials, the report has sought to amend how High Speed 2 might serve Sheffield and the surrounding region. The government had indicated in January 2013 that its preference was for a route that extended HS2 from a junction with the Phase I route near Lichfield, through the East Midlands, to serve an out-of-town station at Meadowhall, an existing rail-tram interchange east of Sheffield city centre.

However, this decision led to a vociferous campaign aimed at ensuring Sheffield city centre was served by high speed services too, which Higgins acknowledged in his report, noting that 'the decision as to where to where to locate the HS2 station in South Yorkshire has proved one of the most difficult we have faced'.

HS2 Ltd's revised approach envisages rerouting the high speed line further east, broadly following the M18 motorway between Rotherham and Doncaster. This would carry high speed services bound for Leeds, York and northeast England. A spur would be constructed south of Chesterfield to connect HS2 to the existing Midland Main Line, which would be electrified by the time the second phase of HS2 is due to open in 2032-33. So-called 'classic compatible' high speed trains built to a restricted loading gauge would use this spur to reach the existing Sheffield station, reducing London – Sheffield journey times by around 40 min from the 2 h typically achieved by limited-stop 200 km/h diesel trains today. HS2 Ltd says that this revised alignment would reduce the cost of the second phase by an estimated £1bn by avoiding densely-populated areas, poor ground conditions caused by historical mining operations and the complexity of building a long viaduct at Tinsley.

Northern Powerhouse benefits

The report noted that a significant further consideration in adapting the South Yorkshire alignment was the emerging plans for Northern Powerhouse Rail. Previously known as High Speed 3, this initiative is being led by the recently-established Transport for the North, a devolved partnership of regional authorities which is seeking to enhance transport links between the major population and employment centres in northern England.

TfN's aspiration is for six trains per hour to link Leeds and Sheffield with a journey time of around 30 min. Today, only one train an hour achieves a journey time of 40 min between the two cities. HS2 Ltd says that TfN could take forward development of a further connecting line north of Sheffield to allow northbound trains to rejoin the HS2 route, facilitating faster journeys to Leeds and northeast England.

HS2 Ltd also notes the importance of ensuring that the wider South Yorkshire region is not only served by HS2 but also benefits from the additional capacity it would release on the existing East Coast Main Line. Higgins has left open an option for the 'possible' development of a parkway station near Conisborough.

The Secretary of State for Transport will now consider Higgins' recommendations ahead of final confirmation of the plans for Phase II in 'autumn 2016'.