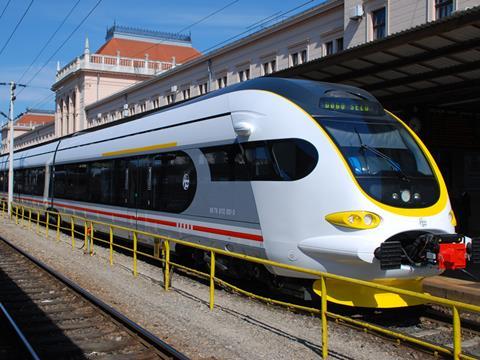 CROATIA: A €213m contract for a total of 44 diesel and electric multiple-units was signed by HŽ PP and domestic rolling stock manufacturer Koncar on January 30.
The largest order placed by the national railway's passenger business is being partly funded with a €107m loan from the Croatian Bank for Reconstruction & Development. Deliveries are scheduled to start in March 2015 and run to 2017.
The order includes 16 four-car EMUs with 211 seats for regional services and 16 with 135 seats for Zagreb suburban operations. These are to be based on two prototypes which were produced in 2011, with minor modifications (RG 10.11 p55).
Koncar will also supply 12 diesel multiple-units. This is a result of TŽV Gredelj dropping the development of its own DMU after hitting financial problems. The three-car DMU will largely follow the EMU design, but with 390 kW roof-mounted powerpacks located near the cabs. The DMUs will be 58·5 m long with 160 seats and space for 160 standing passengers. The maximum speed will be 120 km/h, and acceleration 0·7 m/s².
Koncar has also announced plans for an electro-diesel version of the design, and another using supercapacitors for energy storage.
The prototype EMUs and DMU were described in detail in the October 2011 issue of Railway Gazette International, which subscribers can access in the digital archive.