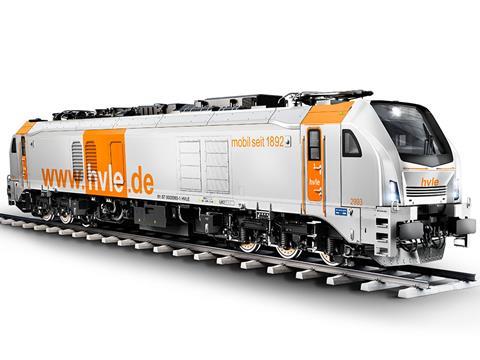 GERMANY: Freight operator Havelländische Eisenbahn has become the first customer for a six-axle electro-diesel locomotive developed by Stadler Rail Valencia for the European market.
The contract for Stadler to supply and maintain 10 six-axle Eurodual locomotives equipped for use under 15 kV 16·7 Hz and 25 kV 50 Hz electrification or on diesel power was announced on March 14. Deutsche Anlagen-Leasing has developed a tailor-made leasing structure for the deal, with funding from Sparkassen-Finanzgruppe.
'Demand for six-axle locomotives will grow because of the increasing length and weight of trains', said HVLE executive board member Ludolf Kerkeling. 'We need diesel power for the first and last mile, but the environmental and economic advantages of electric power are very important for us', added fellow board member Martin Wischner.
The Eurodual modular locomotive family is offered for various gauges, diesel power outputs and electrical systems, and is designed to be suitable for freight and passenger operation at up to 160 km/h. Stadler is currently supplying four-axle Class 88 electro-diesel locomotives to UK operator Direct Rail Services, and testing a six-axle prototype at its Spanish plant.
'This contract is an important milestone for Stadler as the first order of the new locomotive family', said Stadler Rail Valencia CEO Iñigo Parra when the HVLE order was announced. 'The Eurodual locomotive covers every need in an efficient and reliable way offering rail operators numerous economic and ecological benefits.'