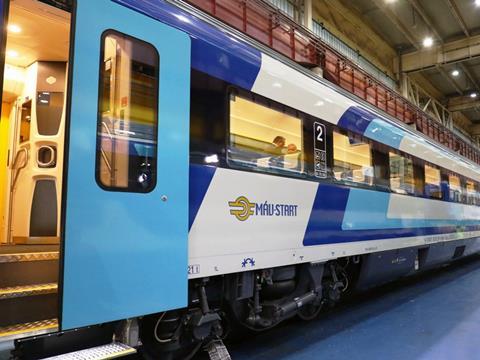 HUNGARY: Following on from two prototype vehicles produced in 2014-15, a series batch of 20 IC+ hauled coaches for international trains has been completed by national railway holding MÁV.
The vehicles have been produced in-house at MÁV's Szolnok workshop. They have been funded by the company and contain more than 50% domestic content. The 20 coaches are destined for use on operator MÁV-Start's international routes; 10 are second-class and the remainder are multi-purpose cars which include three wheelchair spaces. All are equipped with air-conditioning, power sockets, USB ports, wi-fi and CCTV.
The coaches are designed for 200 km/h operation, and certification has already been obtained for operation in Slovakia, the Czech Republic, Austria, Germany, Slovenia, Switzerland, Poland and Romania. Several are already being trialled on commercial services in Hungary on routes from Budapest to Lake Balaton, Miskolc and Debrecen.
MÁV expects to start production in August of a further 70 coaches for domestic services, of which 35 will be multi-purpose cars featuring designated spaces for families and bicycles, and 35 will be premium class, featuring a buffet and a quiet saloon. All 90 locally-developed coaches from the series build should be in squadron service by mid-2021.