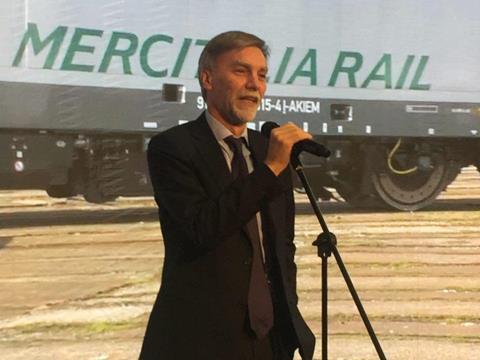 ITALY: 'Radical changes' to the rail freight and logistics market were unveiled on February 20, when FS Italiane launched its restructured Mercitalia freight business in Milano. Transport Minister Graziano Delrio said major investment by FS was a 'driving force' for the country's growth, with up to €1·5bn to be spent on the freight business over the next decade.
Describing the occasion as 'a great day for Italy', FS Chairman Gioia Ghezzi said the state railway was looking to deliver 'a step change', predicting that rail's share of the freight market, which currently stands at around 13%, could reach 50% by 2030. Freight revenues are forecast to double from €1bn in 2016 to €2·1bn in 2026.
FS Group CEO Renato Mazzoncini said the creation of Mercitalia forms a key element in the 10-year strategic plan unveiled in September 2016. Bringing together a variety of business units as a single integrated company and eliminating duplication, the freight 'pole' will have around 4 000 employees. Mazzoncini said the new structure had been developed in close co-operation with customers and partners, adding that customer service was 'a key element in the FS mission'.
As well as domestic operator Mercitalia Rail with revenues of around €500m a year and the Mercitalia Logistics subsidiary, the business includes international open access operator TX Logistik, based in Germany, Cemat, the third largest European intermodal operator, Mercitalia Transport & Services, Mercitalia Terminals, TerAlp (Terminal AlpTransit) and TLF.
Accompanied by Mercitalia President Ivan Soncini, the freight group's Managing Director Marco Gosso said the consolidation was intended to support sustainable development, both in Italy and across Europe. By 'working with society towards a common goal', he felt the company could become 'a new driving force in the freight transport and logistics business'.
Accepting that the railway had been 'too Italo-centric', which did not lend itself to efficient operations, Gosso said Mercitalia had 'changed its vision' and would be looking to focus resources on European corridors. This would include a relaunch of international freight services operated under the TX Logistik brand.
The FS strategic plan envisages expenditure of €1·1bn for locomotives and rolling stock and €300m for terminals; Gosso said €100m would be spent on intermodal terminals and a similar sum for IT and safety initiatives.
Mercitalia Rail has recently agreed to lease 20 electric freight locomotives under a full service agreement. It is now teaming up with TX Logistik to invite expressions of interest for the supply and maintenance of up to 125 more, for delivery from mid-2018 at the rate of two per month. Mercitalia envisages ordering 3 kV DC locos rated at 5·2 MW for domestic operations, with an initial build of 30 locos to be followed by an option for 30 more. TX Logistik requires 5·6 MW four-system locomotives suitable for 25 kV 50 Hz, 15 kV 16·7 Hz, 3 kV and 1·5 kV DC; in this case the first order would be for at least 40 locomotives with an option for another 25.