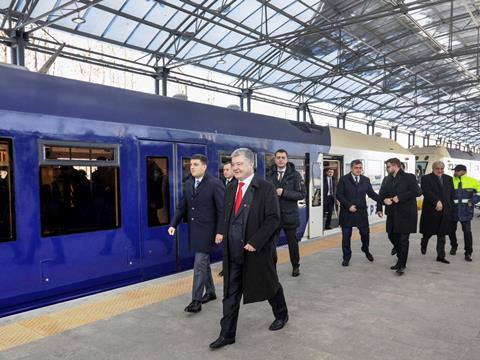 UKRAINE: On November 30, national railway UZ introduced an airport shuttle branded Kyiv Boryspil Express between the city's Pasazhyrskiy station and its principal airport.
The rail link to Boryspil airport has been completed within a budget of 480m hryvna; it required construction of a 4 km branch running south from the Kyiv – Poltava main line at a junction between the existing stations at Chubynskiy and Boryspil.
The principal civil structure on the new railway is a 272 m long bridge over a motorway. The airport station has two platforms and is located close to the airport's terminal D. Covered footpaths link the station with the airport buildings; the station and branch line were completed in just nine months.
Platform 14 at Kyiv Pasazhyrskiy has been allocated solely for use by the airport trains and equipped with ticket vending machines. Two waiting rooms at the station are reserved for airport passengers.
Four single-car Type 620M diesel railbuses produced by Pesa have been refurbished at Grechani depot for use on the airport service. Each can accommodate 120 passengers and they have been equipped with luggage racks.
UZ is offering an approximately hourly service around the clock, with an end to end journey time of 38 min. The trains make an intermediate call at Darnytsia.