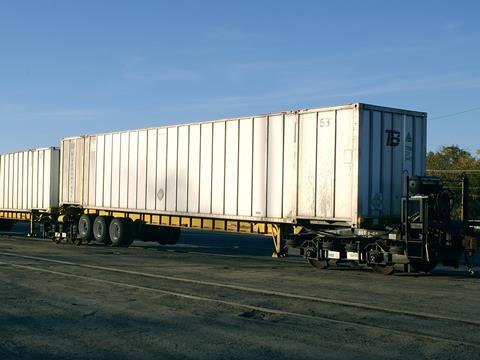 EUROPE: The European subsidiary of US intermodal freight technology company RailRunner plans to launch its first service on July 31, linking Bratislava and Braunschweig. Traction is to be provided by ČD Cargo and EGP of Potsdam, with trains leaving the two termini at 19.00 each weekday and arriving around 12.00 noon the following day.
Conventional pocket wagons and Mega Trailers, swapbodies and containers are to be used, enabling RailRunner to collect data ahead of the planned European launch of its own road-rail system, for which it now hopes to obtain approval during 2019.
The RailRunner system uses a container-carrying chassis with road wheels, which can be mounted on rail bogies. It requires only a track and an adjacent flat surface for the road-rail interface rather than a dedicated terminal with reach stackers or portal cranes. RailRunner believes that its technology could increase train capacity from 36 to around 42 semitrailers within existing length and weight limits.