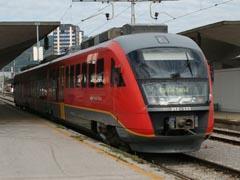 SLOVENIA: The roll-out of a national multimodal public transport ticketing scheme began on September 1.
The integrated scheme is designed to enable passengers to use trains, interurban buses and urban transport in Ljubljana and Maribor, the country's two largest cities, without needing separate tickets.
Tickets are loaded onto a smart card available free of charge at any ticket office in the IPPT sales network, which spans the entire country. The card can then be used on any mode provided by any operator on the route-based regional network or the zone-based urban networks in Ljubljana and Maribor.
The launch is the result of a 15-month project co-ordinated by the Ministry of Infrastructure and led by Slovenian Railways. As well as the technical aspects, this involved the establishment of a management organisation of to support automated fare collection and electronic data management.
Until now, tickets were specific to a mode and an operator, and had to be purchased from separate ticket offices. Implementation of IPPT necessitated the introduction of a single electronic smart card and a single tariff, together with harmonisation of operators' respective systems. The new IT systems have been supplied by Margento, which previously provided back office support for the urban and suburban transport networks in Ljubljana and Koper, as well as the Urbana mobile ticketing system in Ljubljana.
EU funding has covered 85% of the project cost. European Commissioner for Transport Violeta Bulc said that the project would 'enable a multimodal approach to become more simple and reliable'. She hoped that a similar approach 'would extend to the entire European single market'.
The initial phase covers subsidised travel for school pupils and students. 'This is the largest group of public transport users, so we have decided that we shall first offer the service of a multilateral passenger transport ticket to them', said Suzana Habjanič of the Sustainable Mobility & Transport Policy section of the Ministry of Infrastructure.
The next phase would see IPPT expanded to include other urban areas that currently provide subsidised travel to students. In the longer term, the smart ticketing will be rolled out in other urban areas on a voluntary basis. The intention is to expand it to all public transport users ultimately.
In terms of technology, IPPT is to be made available on other media such smart phones. Online user accounts are also due to be launched so that passengers can check their balance.